To participate in the American Legion Department of Washington High School Oratorical Programs Constitutional Speech Contest, download the application form HERE and return it to your local American Legion Post, Unit, Squadron or District Oratorical Chairman. To find local contact information for your area, use the map below to find your District and associated chairman.
Remember applications are due to the State Contest Chairman by January 31, 2022.  All contestants must be certified by an American Legion sponsor by February 15, 2022
The cost for a contestant to enter our contest is ZERO – the entry fee is paid by a sponsor. If you need to locate a sponsor please feel free to contact us – we will locate a sponsor who will pay the entry fee for you!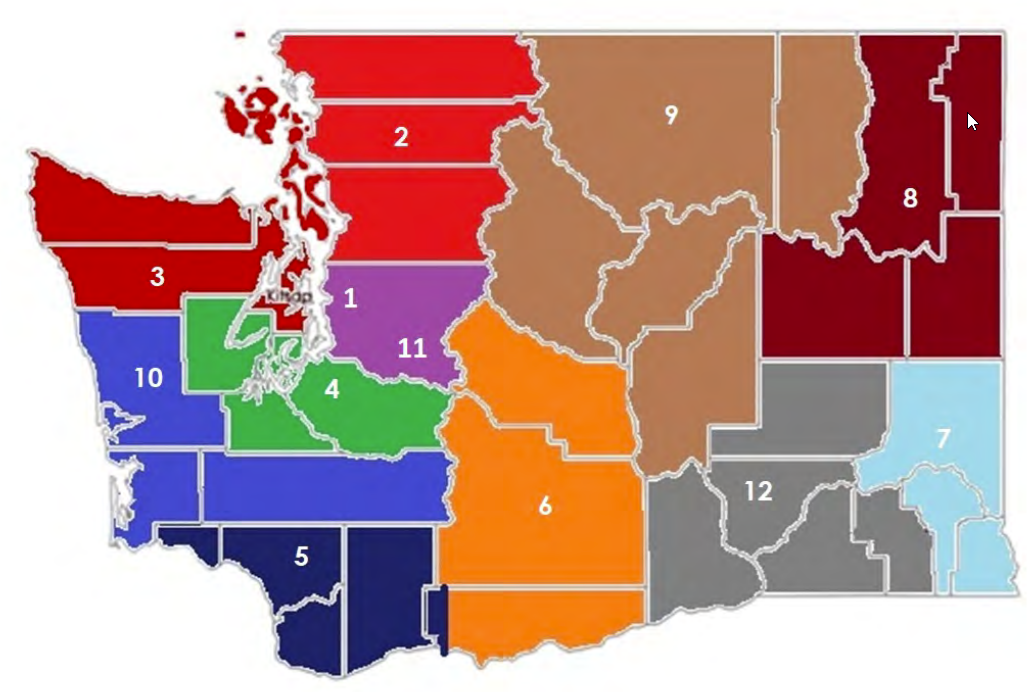 District 1
(Seattle & Vashon Island)Oratorical-District1-Chairman@waconstitutionalspeechcontest.org
District 7 
(Asotin, Garfield, Whitman Counties)Oratorical-District7-Chairman@waconstitutionalspeechcontest.org
District 2 
(Island, San Juan, Snohomish, Skagit, Whatcom Counties)Oratorical-District2-Chairman@waconstitutionalspeechcontest.org
District 8
(Lincoln, Pend Oreille, Spokane, Stevens Counties)Oratorical-District8-Chairman@waconstitutionalspeechcontest.org
District 3
(Clallam, Jefferson, Kitsap Counties)Oratorical-District3-Chairman@waconstitutionalspeechcontest.org
District 9
(Chelan, Douglas, Ferry, Grant, Okanogan Counties)Oratorical-District9-Chairman@waconstitutionalspeechcontest.org
District 4 
(Mason, Thurston, Pierce Counties)Oratorical-District4-Chairman@waconstitutionalspeechcontest.org
District 10 
(Grays Harbor, Lewis, Pacific Counties)Oratorical-District10-Chairman@waconstitutionalspeechcontest.org
District 5
(Clark, Cowlitz, Klickitat, Skamania, Wahkiakum Counties)Oratorical-District5-Chairman@waconstitutionalspeechcontest.org
District 11 
(King County)Oratorical-District11-Chairman@waconstitutionalspeechcontest.org
District 6 
(Kittitas, Klickitat, Yakima Counties)Oratorical-District6-Chairman@waconstitutionalspeechcontest.org
District 12 
(Adams, Benton, Columbia, Franklin, Walla Walla Counties)Oratorical-District12-Chairman@waconstitutionalspeechcontest.org